This sweet Toy Poodle belongs to Leigh Anne Anderson of Burnette Insurance. GiGi is 1 ½ years old and was named after the main character of the 1958 film by the same name. Here's a fun fact about poodles: they are ranked the second most intelligent dog breed just behind the Border Collie. Because of their intelligence, poodles excel in many sports and activities including agility, obedience, tracking, herding, circus performance and assistance dogs.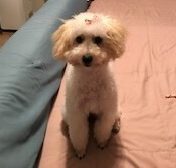 The Andersons got GiGi when she was just a puppy and according to Leigh Anne, she is very loving and gives wonderful kisses. "She is spoiled rotten," she said. "She is unaware that she if a dog." One time as the Anderson's were packing their bags for vacation, GiGi just assumed she's be included and proceeded to climb in the suitcase for the trip.
She enjoys playing fetch with her two favorite toys – a small yellow duck and a small pink rabbit. In fact, she could play with them all day if she could.
For being chosen as our Pet of the Month, GiGi won a goody basket full of treats and toys. To enter your pet into our contest CLICK HERE.