Managed IT Services for Healthcare
Future-ready healthcare integration: Uniting speed, reliability, security, and compliance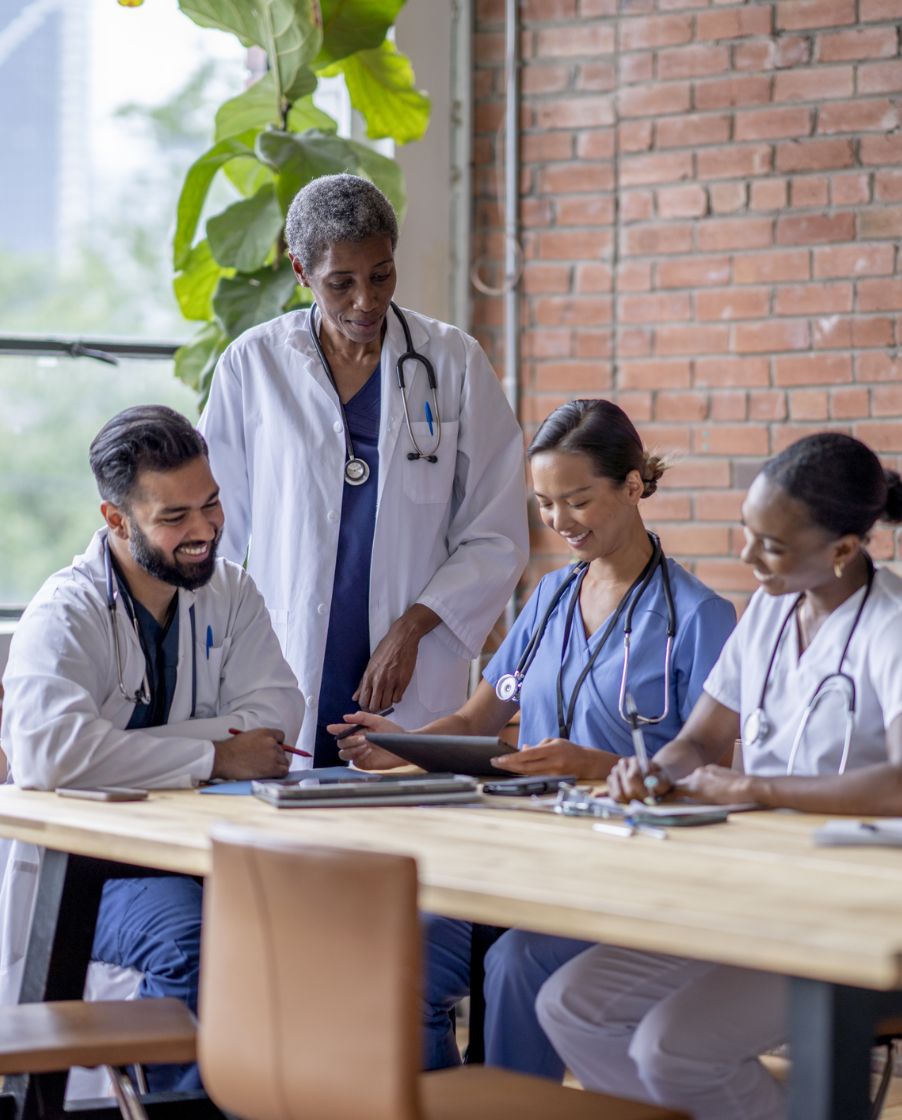 Our managed IT services for healthcare are specifically designed to free up your valuable time, enabling you to focus on what truly matters: providing exceptional care to your patients. With our expert team taking care of all your IT needs, you no longer have to worry about the complexities and challenges of managing technology infrastructure. We handle everything from system maintenance and upgrades to data security and network management.
By entrusting your IT to us, you can experience seamless operations, enhanced efficiency, and reduced downtime, all while ensuring the privacy and security of patient information. The benefit? You gain peace of mind knowing that your IT systems are in capable hands, allowing you to spend more quality time with your patients, providing personalized care, and building stronger patient relationships. Our managed IT services empower you to prioritize the well-being and satisfaction of your patients while we handle the rest.
As a healthcare provider, are you experiencing any of these IT issues?
Keeping patient data secure is a constant concern for us.
We find it challenging to integrate and interoperate our legacy systems.
Managing scalability and IT infrastructure is overwhelming.
This is what success looks like
Burnette Insurance
Family-owned since its inception in 1971, Burnette Insurance is an independent insurance agency located in Suwanee, Ga. Their product offering includes property, liability, professional liability, technology errors and omissions, cyber liability, medical malpractice, group employee benefits, directors and officer's liability, employment practices liability, workers compensation, worldwide transportation, global insurance programs and difficult products liability coverage. Burnette also offers personal insurance, including homeowners, rental, auto, boat, motorcycle, health and life insurance.
It's time to work with an IT provider that understands your healthcare-related technology needs

Healthcare organizations face unique compliance requirements to protect patient data and ensure safe, high-quality care. With evolving regulations such as HIPAA and HITECH, staying compliant can be challenging.
At MIS Solutions, we understand the complexities of healthcare-related compliance. Our experts offer comprehensive solutions, conducting assessments to identify gaps and develop tailored strategies. With robust data security measures, including encryption and access controls, we safeguard patient information and ensure HIPAA compliance. Trust our expertise to navigate the compliance landscape while you focus on providing exceptional care.

Healthcare organizations face unique cybersecurity requirements to protect patient data from unauthorized access, breaches, and cyberthreats. Robust cybersecurity measures are essential to ensure data privacy, regulatory compliance, and patient trust.
We specialize in comprehensive cybersecurity solutions tailored for healthcare organizations. Our experts are well versed in healthcare cybersecurity and stay updated on the latest threats and best practices. We offer services such as vulnerability assessments, penetration testing, security audits, and 24/7 monitoring to identify and mitigate risks. Trust us to strengthen your cybersecurity, minimize vulnerabilities, and safeguard the confidentiality and integrity of your healthcare data.

Healthcare organizations face unique challenges with software applications for managing patient records, scheduling, billing, and other critical functions. However, they often require integration, updates, and customization to meet specific healthcare needs and comply with regulations like HIPAA.
We can provide you with tailored solutions to address all your healthcare software application challenges. Our experienced team assists in selecting, implementing, and integrating applications to streamline operations, ensuring customization and regulatory compliance. With our expertise, you can optimize software infrastructure, enhance efficiency, and deliver better patient care. We offer ongoing support and maintenance, proactively managing your software environment to minimize downtime and maximize productivity.
choose the perfect solution for your healthcare business
Curious about what sets us apart? See why our clients love us:
MIS's Greenlight Cloud Solution Let's Us Focus on Insurance Instead of IT
I would highly recommend MIS. They make us feel like we're the most important client and person at the moment. I know they do that for all their clients.
The thing I love most about MIS Solutions is that they are never happy with the status quo. They are always striving to look for the best way they can service our business. It's their mindset of constant improvement that has helped our network become more stable and reliable. When we do have problems with the Internet or systems, I know that they will respond to our needs.
Connect with us for a quick, no-strings-attached, 15-minute call to discuss your goals and aspirations.
Together, we'll determine if we're the ideal match, and even if we're not the perfect fit, rest assured you'll gain valuable insights into your IT needs.

Start your MIS Solutions journey today!
The ironclad MIS Solutions
promise
We're confident that our service will change the way you view IT service providers.

How confident are we? Within 90 days, if you're not completely satisfied with our services, we'll refund your money. It's that simple.

Come and experience why so many Atlanta-area businesses have put their trust in MIS Solutions.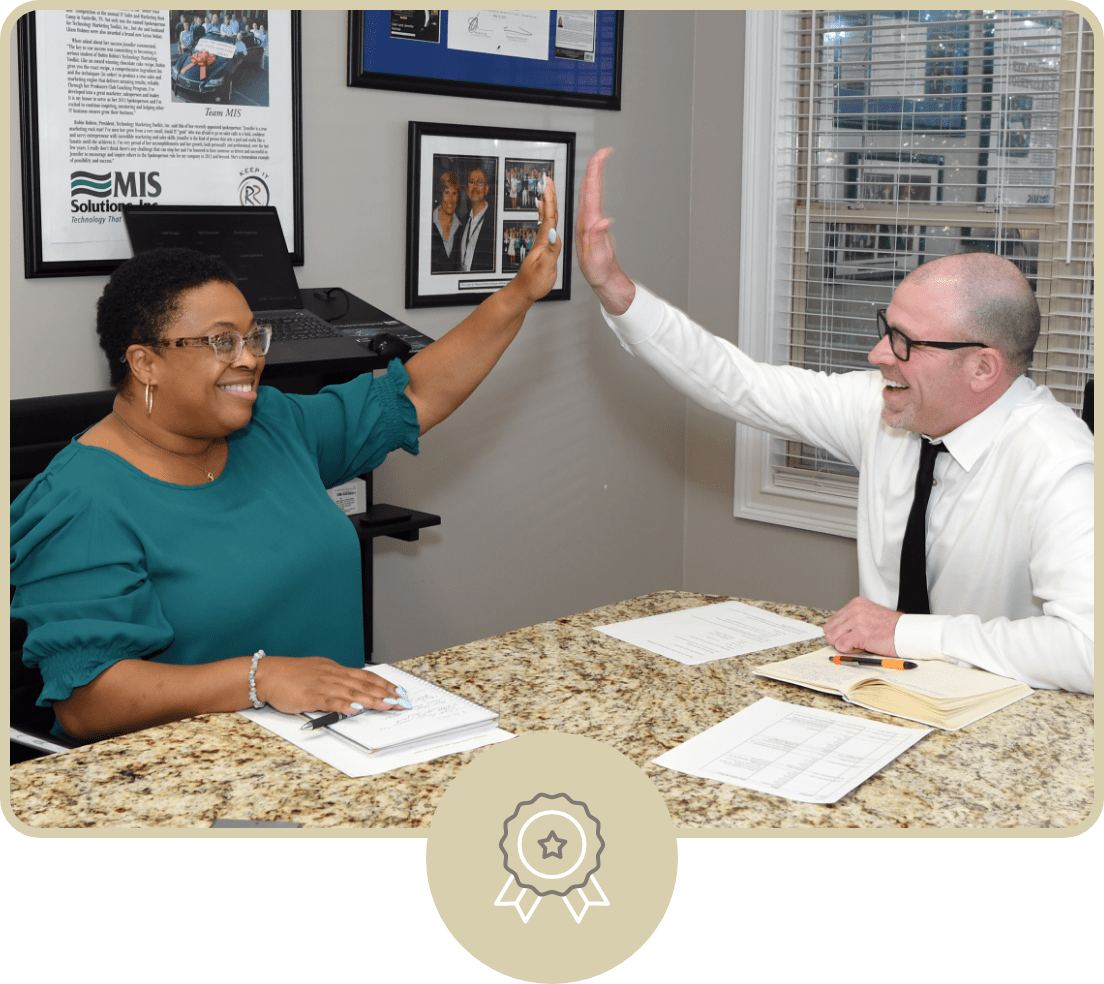 Frequently asked questions
MIS Solutions is a full-service managed IT services provider, which means we can serve as your complete outsourced IT department. We offer a wide range of services, including managed private cloud solutions, strategic IT consulting, reactive support (help desk), proactive support (monitoring, patching, updates, maintenance, backups, disaster recovery, business continuity), cybersecurity and compliance solutions for your industry, project management, vendor management, VoIP phone systems, network assessments, and network design.
No, we do not offer break-fix service. Break-fix is a business model that tends to work in the IT company's favor, rather than yours. With break-fix, you purchase a block of time at an hourly rate for a technician to "fix" your problem when something breaks. Ultimately, you end up paying to resolve issues that could have been prevented with regular IT maintenance and management. Additionally, in the break-fix model, it is up to you to report problems to your technician since there is no monitoring of your systems.
Our ideal clients typically have between 20 and 200 computer users and are headquartered in the metro Atlanta and Gwinnett County areas.
Calls to our main support line during regular business hours are typically answered live within 30 seconds. If a request is urgent, we strive to have a technician working on it within 30 minutes or even sooner. Our goal is to efficiently resolve any issues and get you and your team back to work as quickly as possible.
No, we do not outsource our help desk. All of our service technicians work exclusively for MIS Solutions. This ensures that our clients speak to someone who is intimately familiar with their business each time they contact our support team. We only hire friendly, knowledgeable, courteous, and English-speaking team members to serve our clients.
To stay on top of the ever-changing field of security, IT professionals must commit to an attitude of lifelong learning. Members of our team hold a number of advanced certifications, including Computer Hacking Forensic Investigator, Certified Information Systems Security Professional, Certified Chief Information Security Officer, Certified Cloud Security Professional, and Certified in Governance of Enterprise IT.
Yes. We have an entire Proactive Team that works behind the scenes and around the clock to ensure your systems are secure. Our remote network monitoring system watches over your network to constantly look for developing problems, security issues and other problems so we can address them before they turn into bigger problems or cause extensive downtime or lost data.
We use a team approach to IT management. You will be assigned to a team that will take the time to get to know you and your users and also understand your unique line of business applications. Taking time to understand your organization is the foundation for our mission to deliver responsive, friendly service. By having a whole team assigned and keeping detailed network documentation (basically a blueprint of your computer network) and updates on every client's account, any of our technicians can pick up where another one has left off.