managed it services construction
Efficiency, connectivity, and security: Partnering with experts in construction technology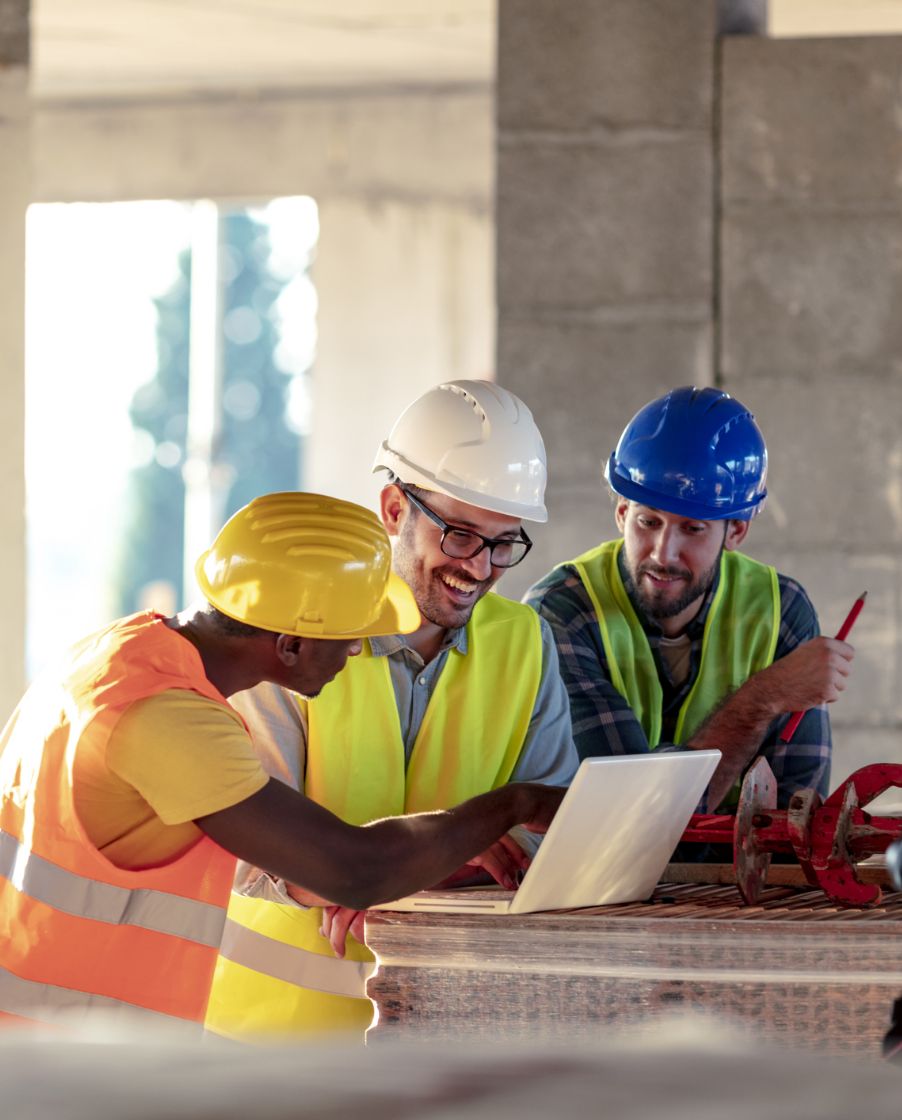 At MIS Solutions, we understand the specific challenges that the construction industry faces when it comes to managing their technology infrastructure. We know how important it is to stay on top of emails, documents, and ensuring that everything runs smoothly, even in the face of unexpected events. With our expertise, we can help you coordinate your remote workers, make file transfers a breeze, and adapt to the ever-changing conditions in the field. Our solutions are tailored to meet the unique needs of the construction industry, whether it's addressing printing requirements, managing your fleet, or ensuring effective communication among your project managers and field service personnel. No matter how complex your technology needs may be, you can count on us to approach them with confidence and provide you with the support you need to succeed.
As a construction business, are you experiencing any of these IT issues?
We're struggling with managing a dispersed workforce.
Our data storage and backup processes are unreliable.
We're unsure about our network security, which is a major concern for us.
This is what success looks like
Whitehead Electric Company
As one of the oldest commercial electrical contractors in Atlanta, Whitehead Electric Company has been involved in some of the city's most distinctive building projects, including Rich's original downtown store, Atlanta's Midfield Terminal and the 1996 Olympic Games. Its philosophy of providing the highest quality service to customers and hiring only the best people to serve those customers has served them well since 1938.
It's time to work with an IT provider that understands your construction-related technology needs

In the construction industry, compliance is crucial to avoid potential setbacks that can harm your business. Failing to meet regulations can lead to legal troubles, damage your reputation, and result in financial penalties. It's essential to address data breaches, privacy violations, intellectual property theft, safety incidents, and financial irregularities, as these risks can disrupt your projects and undermine trust.
We specialize in assisting construction businesses like yours in navigating compliance challenges. With our expertise, we provide customized solutions encompassing robust security measures, data protection, proper documentation, and adherence to safety and financial regulations. By partnering with us, you can confidently mitigate the risks associated with non-compliance, protecting your business and enabling you to focus on what you do best.

Security risks in the construction industry can seriously harm your business. Handling sensitive information like client data, financial records, and project details puts you at risk of data breaches, system compromises, financial losses, and damage to your reputation. It's crucial to address these vulnerabilities.
That's where we come in. Our expertise lies in creating customized security strategies tailored to your needs. We implement strong measures like firewalls, intrusion detection systems, access controls, and encryption protocols. With proactive network monitoring and quick response to security incidents, we ensure your data, intellectual property, and operations are protected. Partnering with us means having peace of mind, knowing that your business is safeguarded.

Software applications play a vital role in the construction industry, streamlining processes, enhancing productivity, and improving overall project management. They bring efficiency and organization to projects of all sizes, from planning and scheduling to document management and collaboration. These applications enable better communication among teams, facilitate real-time data sharing, and provide valuable insights for informed decision-making. Embracing software applications is no longer a luxury; it's a necessity to stay competitive in today's construction landscape.
We understand the importance of software applications in the construction industry, and we're here to assist you. With our expertise, we offer tailored solutions that cater to your specific needs. Our team will guide you through the selection and implementation of the right software applications, ensuring they align with your project requirements, budget, and timeline. By leveraging the power of software applications, you can propel your construction projects to new heights of efficiency and success.
Choose the perfect solution for your construction business
Curious about what sets us apart? See why our clients love us:
There is always someone available via phone to listen and handle our computer and server issues – never an automated attendant – during regular work hours. When we call MIS Solutions, we are immediately assisted with the issue until it is resolved. I would estimate that 98 percent of our issues are resolved within the same day. In comparison to our prior IT service provider, sometimes we would report a problem, then receive a call back only to be told it might take a day or so to resolve the problem.
The thing I love most about MIS Solutions is that they are never happy with the status quo. They are always striving to look for the best way they can service our business. It's their mindset of constant improvement that has helped our network become more stable and reliable. When we do have problems with the Internet or systems, I know that they will respond to our needs.
Being back with MIS just gives me peace of mind knowing that my technology is functioning seamlessly behind the scenes without it interfering with and disrupting our day-to-day operations. It allows us to concentrate and focus our attention on what we're in business for. We're not in business to worry about computers, viruses, networks and servers. We're in business to provide land surveying and engineering consulting and construction layout services – that's what we're good at; that's what we specialize in. And if we're having to worry about a virus on our computer or where our data is being stored or backed up, we can't do our job.
Grant Shepherd & Associates
Connect with us for a quick, no-strings-attached, 15-minute call to discuss your goals and aspirations.
Together, we'll determine if we're the ideal match, and even if we're not the perfect fit, rest assured you'll gain valuable insights into your IT needs.

Start your MIS Solutions journey today!
The ironclad MIS Solutions
promise
We're confident that our service will change the way you view IT service providers.

How confident are we? Within 90 days, if you're not completely satisfied with our services, we'll refund your money. It's that simple.

Come and experience why so many Atlanta-area businesses have put their trust in MIS Solutions.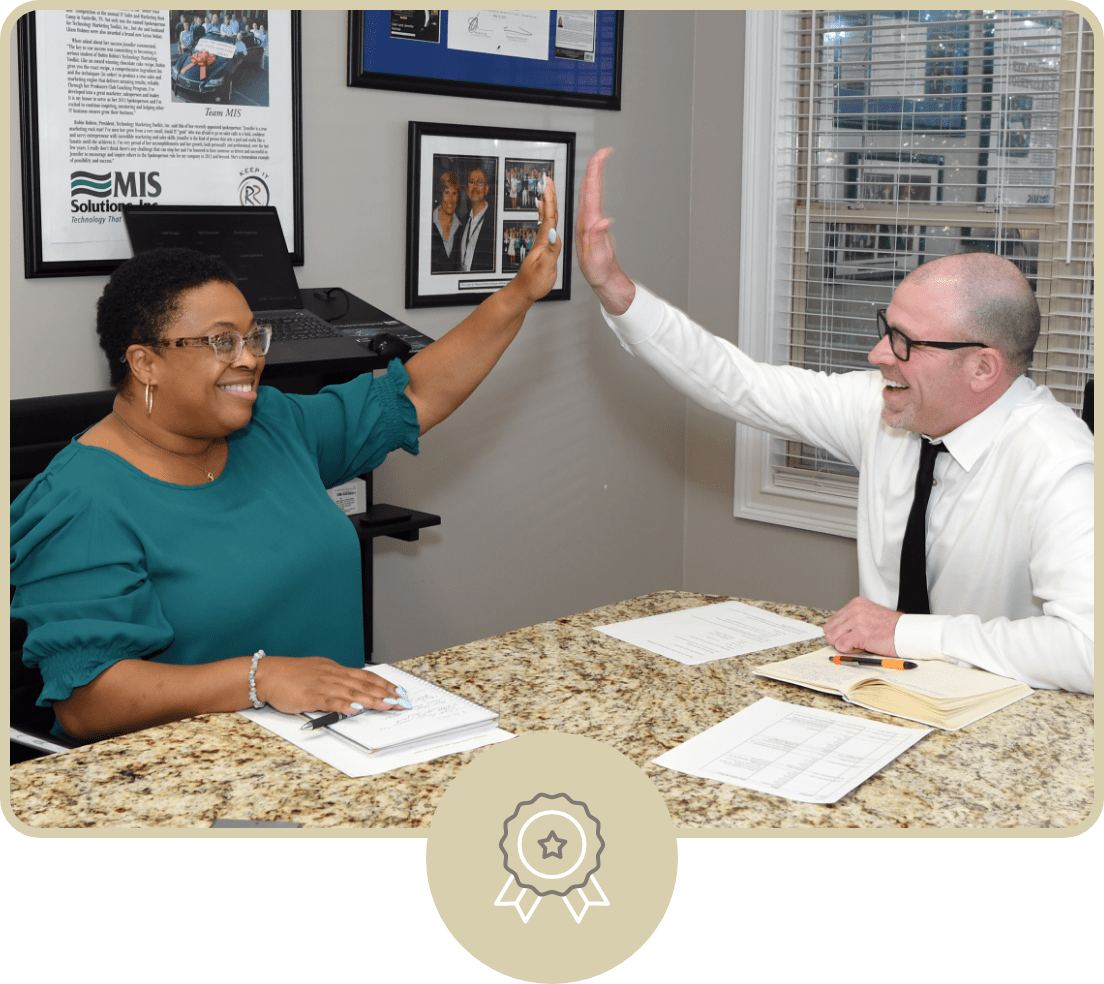 Frequently asked questions
MIS Solutions is a full-service managed IT services provider, which means we can serve as your complete outsourced IT department. We offer a wide range of services, including managed private cloud solutions, strategic IT consulting, reactive support (help desk), proactive support (monitoring, patching, updates, maintenance, backups, disaster recovery, business continuity), cybersecurity and compliance solutions for your industry, project management, vendor management, VoIP phone systems, network assessments, and network design.
No, we do not offer break-fix service. Break-fix is a business model that tends to work in the IT company's favor, rather than yours. With break-fix, you purchase a block of time at an hourly rate for a technician to "fix" your problem when something breaks. Ultimately, you end up paying to resolve issues that could have been prevented with regular IT maintenance and management. Additionally, in the break-fix model, it is up to you to report problems to your technician since there is no monitoring of your systems.
Our ideal clients typically have between 20 and 200 computer users and are headquartered in the metro Atlanta and Gwinnett County areas.
Calls to our main support line during regular business hours are typically answered live within 30 seconds. If a request is urgent, we strive to have a technician working on it within 30 minutes or even sooner. Our goal is to efficiently resolve any issues and get you and your team back to work as quickly as possible.
No, we do not outsource our help desk. All of our service technicians work exclusively for MIS Solutions. This ensures that our clients speak to someone who is intimately familiar with their business each time they contact our support team. We only hire friendly, knowledgeable, courteous, and English-speaking team members to serve our clients.
To stay on top of the ever-changing field of security, IT professionals must commit to an attitude of lifelong learning. Members of our team hold a number of advanced certifications, including Computer Hacking Forensic Investigator, Certified Information Systems Security Professional, Certified Chief Information Security Officer, Certified Cloud Security Professional, and Certified in Governance of Enterprise IT.
Yes. We have an entire Proactive Team that works behind the scenes and around the clock to ensure your systems are secure. Our remote network monitoring system watches over your network to constantly look for developing problems, security issues and other problems so we can address them before they turn into bigger problems or cause extensive downtime or lost data.
We use a team approach to IT management. You will be assigned to a team that will take the time to get to know you and your users and also understand your unique line of business applications. Taking time to understand your organization is the foundation for our mission to deliver responsive, friendly service. By having a whole team assigned and keeping detailed network documentation (basically a blueprint of your computer network) and updates on every client's account, any of our technicians can pick up where another one has left off.