Managed IT for Professional Services
The perfect IT fit for professional services: Enhancing workflows, safeguarding data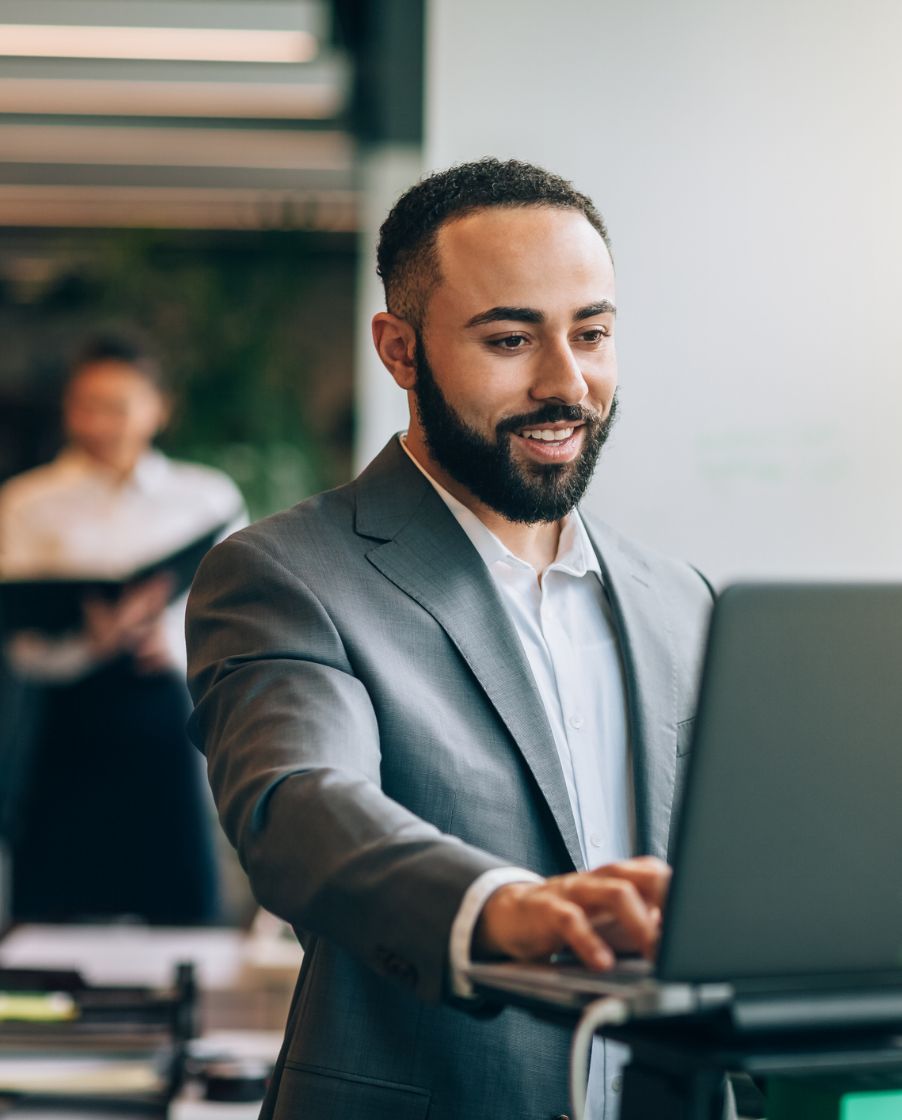 Our team of technology experts specializes in meeting the unique IT needs of professional service businesses. With extensive experience in software applications, email and document management, secure file transfers, disaster recovery, network security, and connectivity, we possess the expertise to ensure your success. We understand the complexities of your IT requirements, including supporting a mobile workforce and maintaining compliance with financial regulations. Trust us to confidently navigate your IT infrastructure, ensuring your business runs smoothly and securely in the ever-evolving professional services landscape.
As a professional services firm, are you experiencing any of these IT issues?
We are struggling with data security.
We face difficulties with remote connectivity.
Managing complex IT infrastructure is holding us back.
This is what success looks like
Carver & Associates
Family-owned since its inception in 1971, Burnette Insurance is an independent insurance agency located in Suwanee, Ga. Their product offering includes property, liability, professional liability, technology errors and omissions, cyber liability, medical malpractice, group employee benefits, directors and officer's liability, employment practices liability, workers compensation, worldwide transportation, global insurance programs and difficult products liability coverage. Burnette also offers personal insurance, including homeowners, rental, auto, boat, motorcycle, health and life insurance.
It's time to work with an IT provider that understands the technology needs of your professional services firm

Professional services organizations have to deal with a lot of complicated compliance issues, and if they don't handle them properly, it can cause serious problems. They have to follow specific rules for their industry, keep data private, and stay on top of changing laws. To navigate all this, you need a team that really knows their stuff. That's where we come in.
Our experts are experts for a reason. They know all about the rules and regulations that apply to your industry, and they stay up-to-date on the latest legal requirements. We'll work with you to figure out what you need to do to meet all the standards. Our approach covers everything, from making sure your data is safe and secure with encryption and access controls, to setting up processes to keep your clients' information confidential. We'll also keep an eye on things for you, so you'll know about any changes in the rules and be able to adapt quickly. Partner with us to avoid the negative consequences of not following the rules, reduce your risks, and stay compliant while you focus on running your business.

Security risks in the professional services industry can seriously harm your business. Handling sensitive client information, financial data, and confidential documents puts you at risk of data breaches, cyberattacks, financial losses, and damage to your reputation. It's crucial to address these vulnerabilities.
At MIS Solutions, we specialize in meeting the unique security needs of professional services firms. Our customized security solutions are designed to protect your sensitive data and ensure the smooth functioning of your operations. We implement strong measures like advanced firewalls, intrusion detection systems, access controls, and encryption protocols to strengthen your network defenses. With proactive monitoring and rapid incident response, we keep a vigilant eye on potential threats and take immediate action to safeguard your valuable assets. Partnering with us means having peace of mind, knowing that your business is well-protected against security risks.

Software applications are essential for the success of professional services firms, transforming the way they work and deliver services. These applications bring efficiency, organization, and increased productivity to various aspects of your business, such as managing clients, tracking projects, collaborating on documents, and analyzing data. Embracing the right software applications is no longer a choice but a necessity to stay competitive in the professional services industry.
We understand the significance of software applications in the professional services sector, and we're here to assist you. Our team of experts comprehends the unique requirements of your industry and can help you choose and implement the most suitable software applications for your specific needs. Whether it's CRM systems, project management tools, collaboration platforms, or data analytics software, we ensure that the solutions we provide align with your objectives, budget, and timeline. By harnessing the capabilities of these applications, you can enhance your efficiency, streamline workflows, and make well-informed decisions to drive your professional services firm towards greater success.
choose the perfect solution for your professional services firm
Curious about what sets us apart? See why our clients love us:
MIS provides great value. No more hourly bills. No more uncertainty. I know what my IT bill is going to be every month. I don't get downright angry anymore when something goes wrong because of having to pay hourly for an IT person to first learn about my problem then try to fix it by trial and error. Thank you MIS!
MIS Solutions not only meets my IT needs, but they keep in mind my overall business needs, as well. They are continually looking for ways to help me run my legal firm more efficiently. They really are a one-stop shop, so if anything goes wrong with my internet, my phone system, my network, I know they are there to handle it. And knowing they are the IT experts helps me compete with the large practices.
Connect with us for a quick, no-strings-attached, 15-minute call to discuss your goals and aspirations.
Together, we'll determine if we're the ideal match, and even if we're not the perfect fit, rest assured you'll gain valuable insights into your IT needs.

Start your MIS Solutions journey today!
The ironclad MIS Solutions
promise
We're confident that our service will change the way you view IT service providers.

How confident are we? Within 90 days, if you're not completely satisfied with our services, we'll refund your money. It's that simple.

Come and experience why so many Atlanta-area businesses have put their trust in MIS Solutions.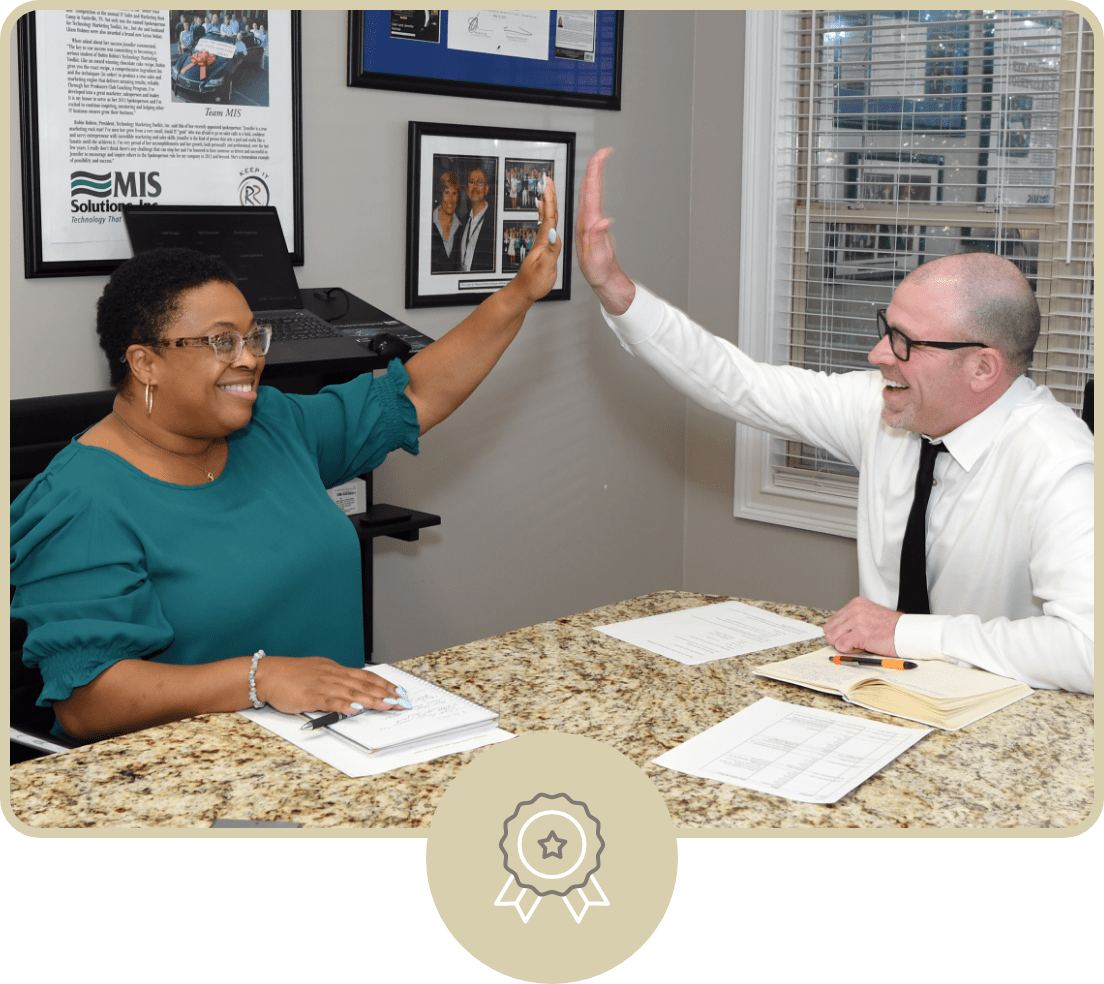 Frequently asked questions
MIS Solutions is a full-service managed IT services provider, which means we can serve as your complete outsourced IT department. We offer a wide range of services, including managed private cloud solutions, strategic IT consulting, reactive support (help desk), proactive support (monitoring, patching, updates, maintenance, backups, disaster recovery, business continuity), cybersecurity and compliance solutions for your industry, project management, vendor management, VoIP phone systems, network assessments, and network design.
No, we do not offer break-fix service. Break-fix is a business model that tends to work in the IT company's favor, rather than yours. With break-fix, you purchase a block of time at an hourly rate for a technician to "fix" your problem when something breaks. Ultimately, you end up paying to resolve issues that could have been prevented with regular IT maintenance and management. Additionally, in the break-fix model, it is up to you to report problems to your technician since there is no monitoring of your systems.
Our ideal clients typically have between 20 and 200 computer users and are headquartered in the metro Atlanta and Gwinnett County areas.
Calls to our main support line during regular business hours are typically answered live within 30 seconds. If a request is urgent, we strive to have a technician working on it within 30 minutes or even sooner. Our goal is to efficiently resolve any issues and get you and your team back to work as quickly as possible.
No, we do not outsource our help desk. All of our service technicians work exclusively for MIS Solutions. This ensures that our clients speak to someone who is intimately familiar with their business each time they contact our support team. We only hire friendly, knowledgeable, courteous, and English-speaking team members to serve our clients.
To stay on top of the ever-changing field of security, IT professionals must commit to an attitude of lifelong learning. Members of our team hold a number of advanced certifications, including Computer Hacking Forensic Investigator, Certified Information Systems Security Professional, Certified Chief Information Security Officer, Certified Cloud Security Professional, and Certified in Governance of Enterprise IT.
Yes. We have an entire Proactive Team that works behind the scenes and around the clock to ensure your systems are secure. Our remote network monitoring system watches over your network to constantly look for developing problems, security issues and other problems so we can address them before they turn into bigger problems or cause extensive downtime or lost data.
We use a team approach to IT management. You will be assigned to a team that will take the time to get to know you and your users and also understand your unique line of business applications. Taking time to understand your organization is the foundation for our mission to deliver responsive, friendly service. By having a whole team assigned and keeping detailed network documentation (basically a blueprint of your computer network) and updates on every client's account, any of our technicians can pick up where another one has left off.