Fully Managed IT
Done for You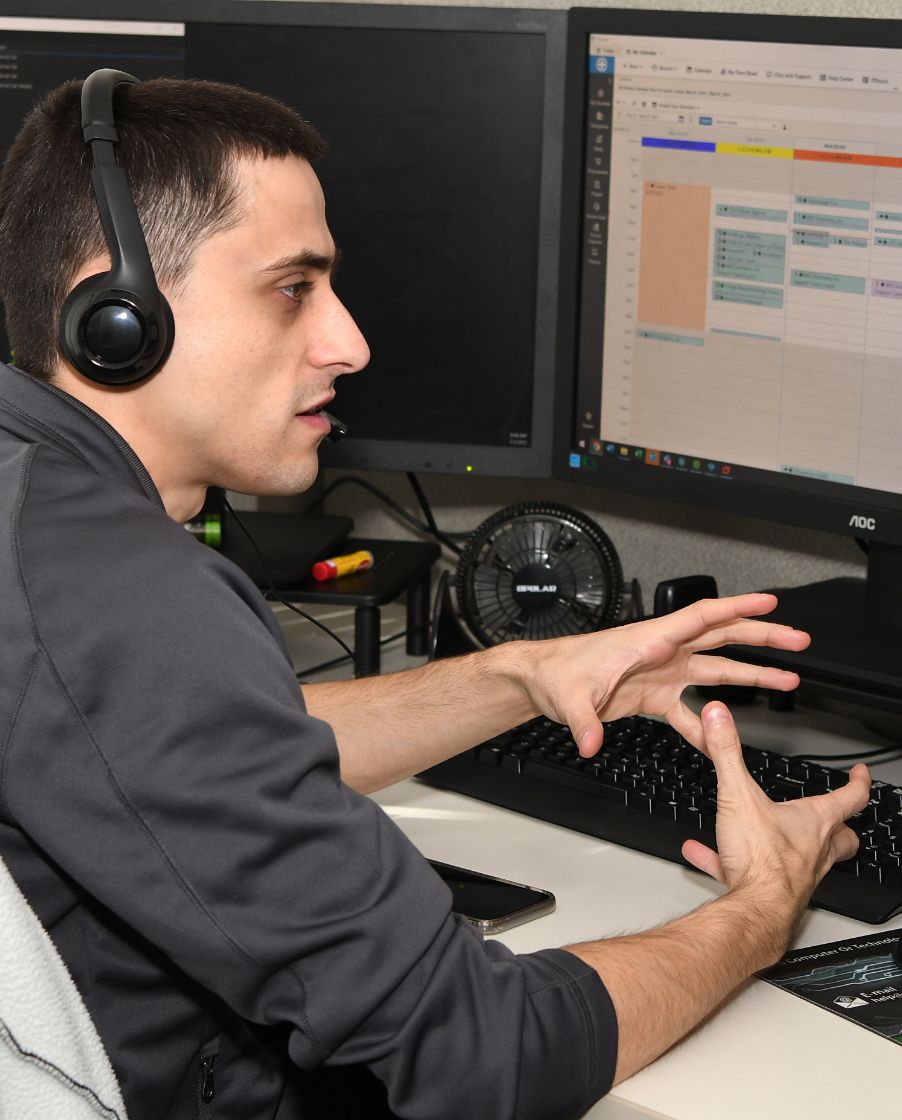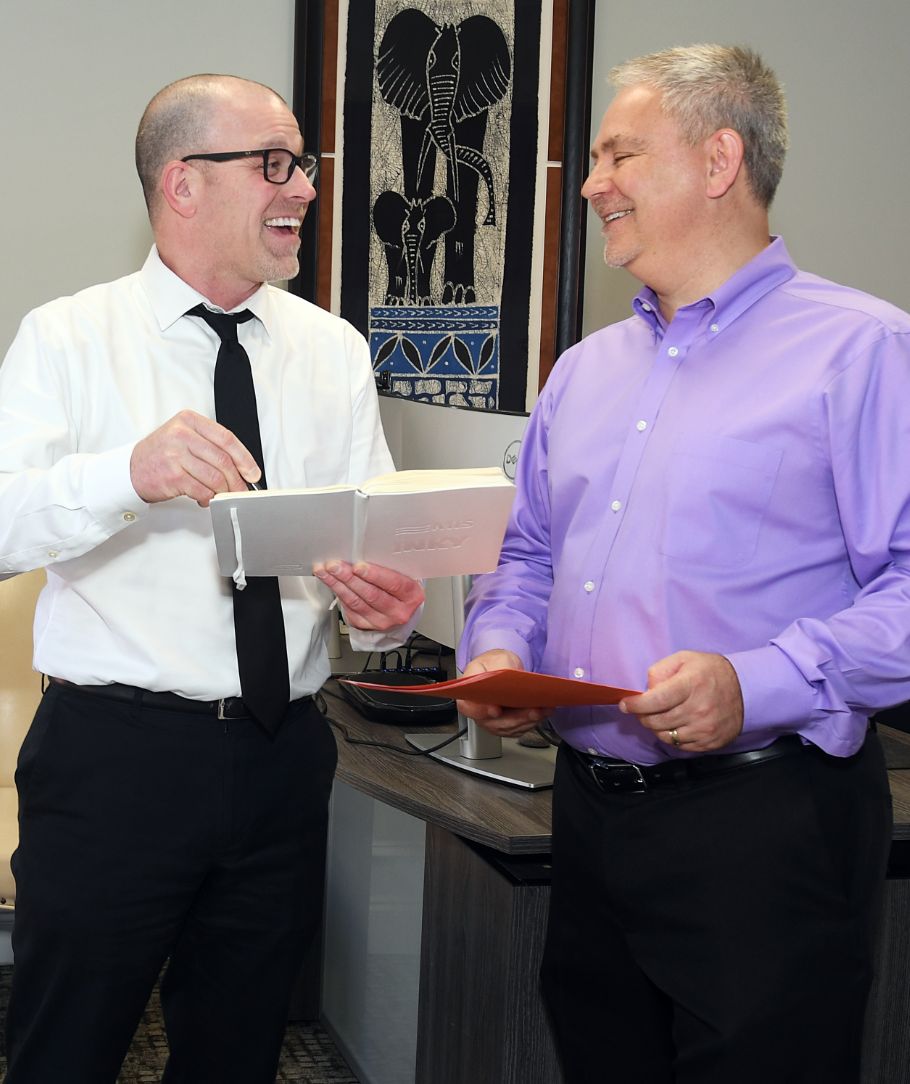 Work with an IT partner who has
a game plan
— Someone who understands your business direction and can guide you there with a personalized roadmap.
Here at MIS Solutions, we understand that no two businesses are alike. Unlike other managed IT services providers who rely on cookie-cutter solutions that might not meet your specific needs, our approach sets us apart. Just like when you consult a doctor, who conducts a thorough examination before suggesting treatment options, we prioritize this personalized approach.
Your goals are important to us, and that's why our first step is to truly understand them. By familiarizing ourselves with your team and processes, we can recommend technologies that enhance efficiency. We firmly believe in tailoring our approach to fit your unique business needs. It's all about finding the perfect solutions that align perfectly with your objectives.
Gain the freedom to focus on your business while we handle all your technology needs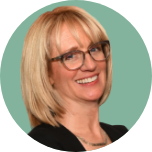 The Secret Sauce of a Different Kind of Provider
Managed IT has evolved.
Savvy business leaders understand technology is not merely a necessary evil they must use to conduct business in today's world. Far from it.
They know managed technology is a tool that gives businesses a competitive edge in the marketplace, allowing them to grow and thrive, even in uncertain times.
We've Seen Things

We've witnessed this firsthand in our three decades of helping small and midsized businesses in the Metro Atlanta area. Our longtime clients who value the importance of technology and continue to invest appropriately are the ones that weathered economic downturns and came out on the other side when many of their competitors did not. That's the advantage of having an experienced, trustworthy managed IT services partner on your side.
A Labor of Love
Lliam Holmes and I started MIS Solutions to provide SMBs with uncompromising IT management that, at the time, was only afforded to large corporations. Things have changed dramatically since the humble days of running our business out of our basement. And frankly, we've made a few mistakes along the way. But we've come out more resilient, bigger, and better equipped to guide today's businesses through the quickly evolving IT landscape wrought with threats and ripe with opportunities.
We Speak Human
Family-owned and local,
we are committed to providing the very best managed IT services in Metro Atlanta. We've built a team of 50+ highly qualified professionals who share our passion for servant leadership and value healthy relationships. We all understand that people make technology work. We exist to make technology work for people. In this vein, our organization is instilled with the human spirit, and we are intent on adding value at every interaction.
While we're proud of the countless industry accolades and awards, we're even more proud of the impact we've had on so many lives in our community.
We're Different
If this sounds like a different approach to IT management, you'd be correct! We're very transparent that we're not right for every business. The only way to know for certain is to book a 15-minute discovery call.
It's time to work with a managed IT provider who
wows you every day
Imagine having an IT partner who dedicates themselves to understanding your unique business needs and aspirations, tirelessly removing the obstacles that have hindered you and your employees. No more vendor hopping, where you're treated as just another faceless customer, constantly searching for someone capable of addressing all your concerns at once. With us, imagination becomes reality because our expertise and people-centric approach make stress-free IT a genuine possibility for you. Not only will we ensure the seamless operation of your network and systems, but we'll also contribute fresh ideas, strategies, and solutions to enhance your business and foster a happy and productive team.
Experience the power of seamless managed IT services and unlock your full potential. Stop dreaming about the way your business could be and start living it with us.
Curious about what sets us apart? See why our clients love us:
The technicians at MIS are accessible and reliable. I frequently work on weekends, and knowing that there's always somebody available to assist me means a lot.
Other vendors should take a page out of MIS Solutions' playbook on how to treat customers, be responsive, and back that up with the knowledge and execution of what they offer. It's a complete package.
Grant Shepherd & Associates
The thing I love most about MIS Solutions is that they are never happy with the status quo. They are always striving to look for the best way they can service our business. It's their mindset of constant improvement that has helped our network become more stable and reliable. When we do have problems with the Internet or systems, I know that they will respond to our needs.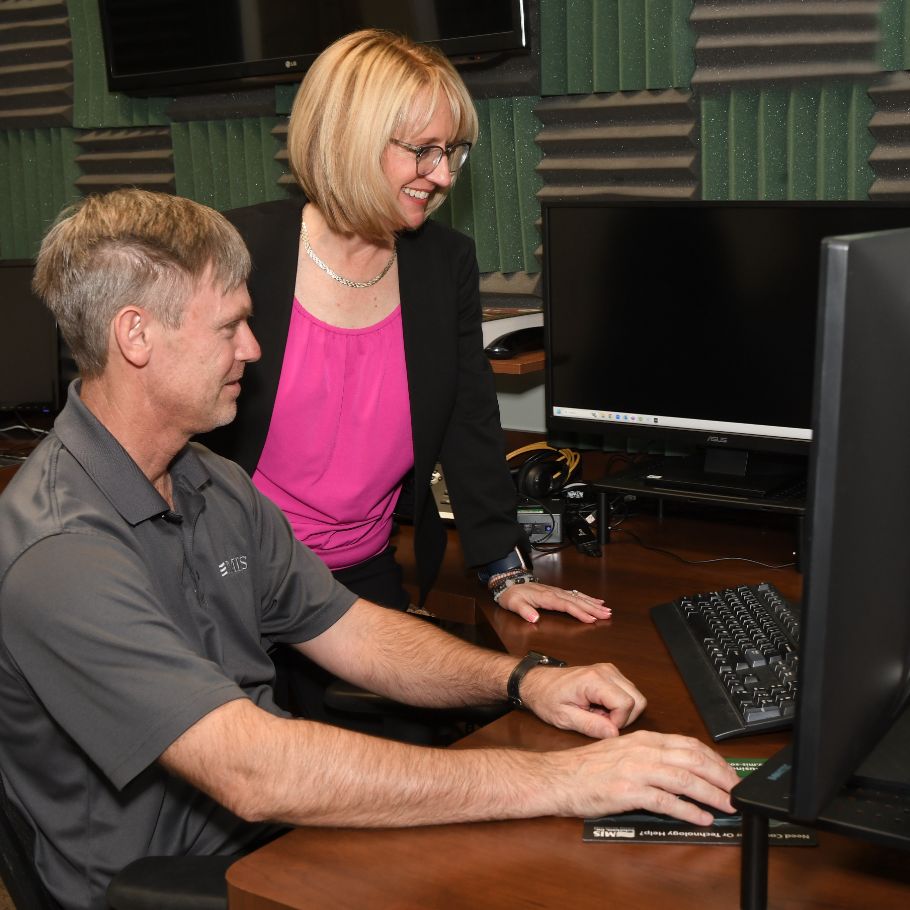 Complete peace of mind
With our round-the-clock managed IT support, you can rest assured that your IT needs are in capable hands. We understand that IT issues can arise at any time, causing frustration and costly downtime. Available 24/7, our team of technology experts promptly resolves problems day or night, weekdays or weekends, allowing you to focus on your core business activities worry-free.

Additionally, our predictable pricing structure eliminates unexpected costs, giving you full control over your IT expenses and ensuring transparency. At MIS Solutions, there are no surprises — partnering with us means complete peace of mind, whether it's regarding response times, service quality, or budget certainty.
A dedicated team of IT experts at your service
When you partner with us, you gain access to a powerhouse team of highly skilled and dedicated IT professionals. Our experts are not only passionate about delivering exceptional IT solutions, but they're also on top of the latest technologies and trends. At MIS Solutions, we eat, sleep, and breathe IT, constantly updating our knowledge and experience to stay ahead of the game.

No matter what kind of IT challenge you're facing, our team has got you covered. From troubleshooting technical glitches to implementing new systems and optimizing existing infrastructure, we'll work closely with you to understand your unique needs. Equipped with far-reaching expertise and a can-do attitude, we're able to provide tailored solutions that perfectly fit your requirements.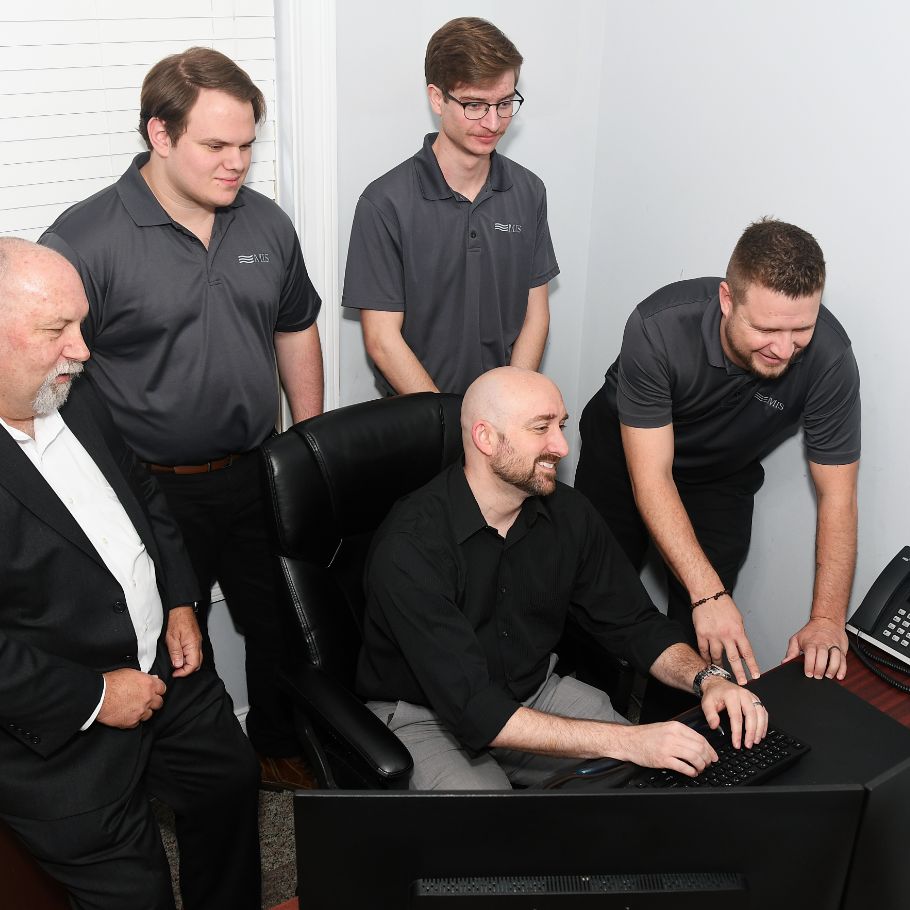 Comprehensive managed IT
Provided by experts who understand your requirements — whatever you need, we've got it covered.
Connect with us for a quick, no-strings-attached, 15-minute call to discuss your goals and aspirations.
Together, we'll determine if we're the ideal match, and even if we're not the perfect fit, rest assured you'll gain valuable insights into your IT needs.

Start your MIS Solutions journey today!
The ironclad MIS Solutions
promise
We're confident that our service will change the way you view IT service providers.

How confident are we? Within 90 days, if you're not completely satisfied with our services, we'll refund your money. It's that simple.

Come and experience why so many Atlanta-area businesses have put their trust in MIS Solutions.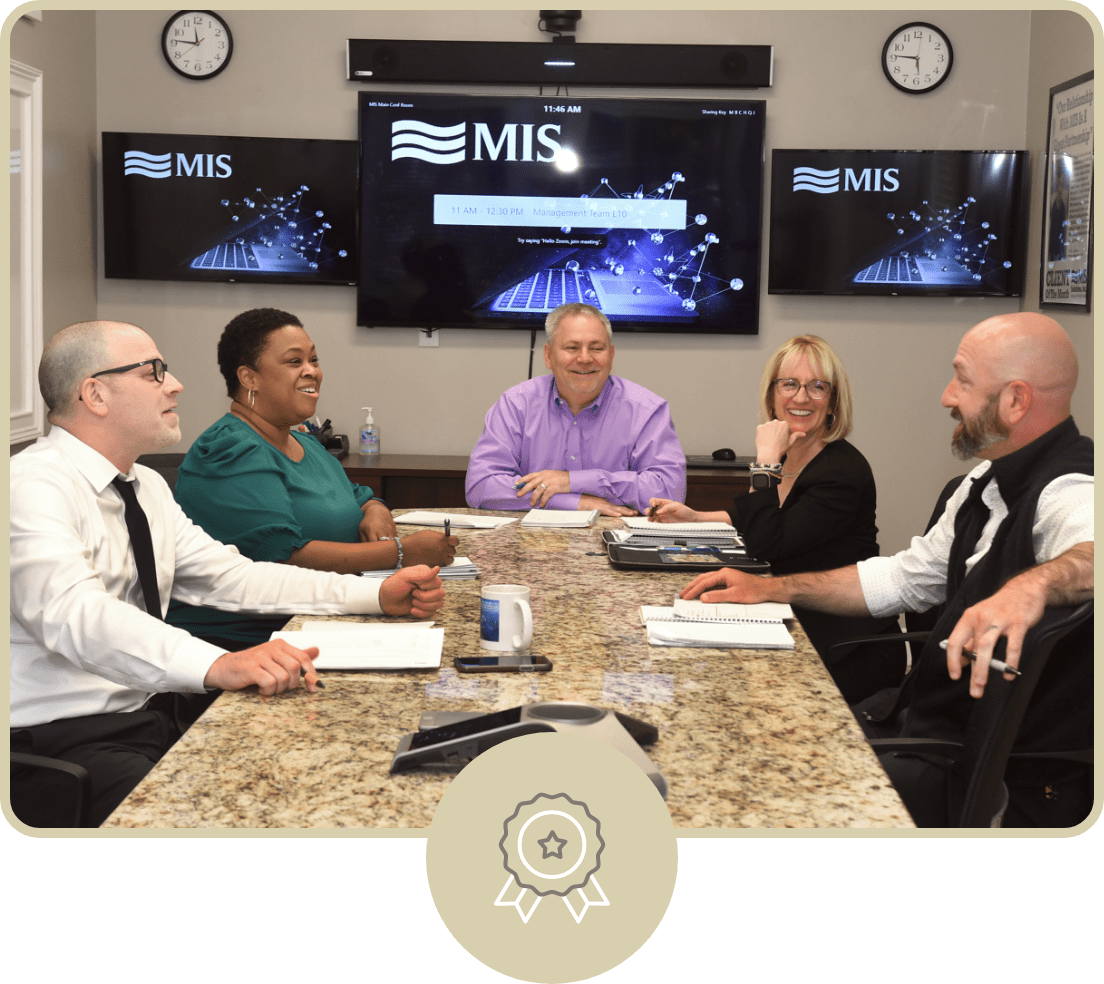 Frequently asked questions
MIS Solutions is a full-service managed IT services provider, which means we can serve as your complete outsourced IT department. We offer a wide range of services, including managed private cloud solutions, strategic IT consulting, reactive support (help desk), proactive support (monitoring, patching, updates, maintenance, backups, disaster recovery, business continuity), cybersecurity and compliance solutions for your industry, project management, vendor management, VoIP phone systems, network assessments, and network design.
No, we do not offer break-fix service. Break-fix is a business model that tends to work in the IT company's favor, rather than yours. With break-fix, you purchase a block of time at an hourly rate for a technician to "fix" your problem when something breaks. Ultimately, you end up paying to resolve issues that could have been prevented with regular IT maintenance and management. Additionally, in the break-fix model, it is up to you to report problems to your technician since there is no monitoring of your systems.
Our ideal clients typically have between 20 and 200 computer users and are headquartered in the metro Atlanta and Gwinnett County areas.
Calls to our main support line during regular business hours are typically answered live within 30 seconds. If a request is urgent, we strive to have a technician working on it within 30 minutes or even sooner. Our goal is to efficiently resolve any issues and get you and your team back to work as quickly as possible.
No, we do not outsource our help desk. All of our service technicians work exclusively for MIS Solutions. This ensures that our clients speak to someone who is intimately familiar with their business each time they contact our support team. We only hire friendly, knowledgeable, courteous, and English-speaking team members to serve our clients.
To stay on top of the ever-changing field of security, IT professionals must commit to an attitude of lifelong learning. Members of our team hold a number of advanced certifications, including Computer Hacking Forensic Investigator, Certified Information Systems Security Professional, Certified Chief Information Security Officer, Certified Cloud Security Professional, and Certified in Governance of Enterprise IT.
Yes. We have an entire Proactive Team that works behind the scenes and around the clock to ensure your systems are secure. Our remote network monitoring system watches over your network to constantly look for developing problems, security issues and other problems so we can address them before they turn into bigger problems or cause extensive downtime or lost data.
We use a team approach to IT management. You will be assigned to a team that will take the time to get to know you and your users and also understand your unique line of business applications. Taking time to understand your organization is the foundation for our mission to deliver responsive, friendly service. By having a whole team assigned and keeping detailed network documentation (basically a blueprint of your computer network) and updates on every client's account, any of our technicians can pick up where another one has left off.