How Borrmann Metal Company Underwent a Complete Network Rebuild Without Disruption
Most people have a certain pain threshold they're willing to tolerate during those infrequent occasions when their technology misbehaves – it is technology, after all, and technology is not perfect. But when downtime becomes chronic and an organization's bottom line is at stake, it's time to re-evaluate how technology is being managed.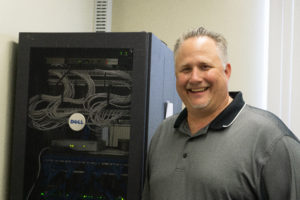 This was the situation Joel Silver, general manager of Borrmann Metal Center, found himself in late 2017. His IT environment had become increasingly shaky causing the company's enterprise resource planning software to malfunction. Organizations rely so heavily on email and web platforms these days that business practically comes to a halt when staff members are not able to access the online tools needed to do their jobs. Without reliable access to critical business applications, the Borrmann Metal Center ran the risk of losing sales.
It Was Time for a Change
"Basically, we had outgrown our IT company and problems were being handled reactively instead of proactively," said Joel. "We needed to make a change, but when you make such a drastic change – especially in your IT network – it's very scary. We've gone through some painful transitions with other vendors in the past. So to me, it was very important that the switch go as smoothly as possible so as not to lose business during the process." Finding an IT partner who could upgrade systems and hardware with the least amount of disruption for his staff was a must.
The family-owned company has seen its fair share of transformations during the past century. Founded as Borrmann Steel in 1919 by George and Jane Borrmann, it is one of the oldest metal distributors in the country servicing industries including manufacturing, structural fabricating and construction. The Burbank company eventually expanded its inventory to other metals including stainless steel, aluminum steel alloy and others. It changed its name to reflect its extensive product offering and added a second location in Riverside.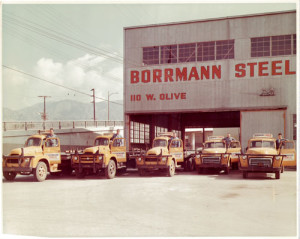 Amidst all the growth and transitions through the years, one thing has remained constant: Borrmann's commitment to provide quality service and materials to its customers. Without the right technology, their ability to continue offering exceptional service would be profoundly hindered.
Updating an organization's IT network takes a tremendous amount of planning and skill so as not to disrupt the day-to-day tasks of running a business. David Ohlberg, assistant general manager and purchasing manager at Borrmann, had previously worked with MIS Solutions while employed at another organization. Knowing that MIS could straighten out Borrmann's infrastructure and restore stability, he introduced Joel to Doug Johnson, managing partner at MIS Solutions. After meeting with Doug, Joel also felt that MIS would be able to assist with his IT troubles.
A peek under the hood during the initial assessment revealed that there was much to be done to get the network functioning properly. For starters, the entire facility needed to be rewired and the server room needed to be moved to a more ideal location. The servers needed to be reconfigured and a robust backup and disaster recovery solution was sorely needed.
The MIS team set up MIS's Greenlight Managed Security and Unified Threat Management system which includes the firewall appliance and a host of services including monitoring, automated maintenance, patch management, remote support, network protection, anti-virus, intrusion detection and daily backup to a Level 3 data center.
With Borrmann's network stabilized, the ERP began functioning without the constant seizing up and frequent interruptions. Productivity is up and frustration levels are down. "We were able to make this transition without disrupting any business. There were very few speed bumps," said Joel. "MIS definitely has their ducks in a row and prepares for success. I am very impressed with everybody on the MIS team. The customer service is great and we're moving in the right direction with our technology. Hopefully, we're going to be around for another hundred years."