Whoa! Look what Samsung is about to launch (finally) – a foldable smartphone. And we're not talking about a flip phone here. The company has been talking about a foldable phone for years, but it looks like this next-generation gadget will actually come to market next month on April 26.
The Galaxy Fold has a 4.6-inch display when folded but opens up like a book revealing a massive 7.3-inch display. A sophisticated hidden hinge system along with a new screen technology called Infinity Flex Display is what allows the phone to be opened and closed without losing screen integrity. And its app continuity feature enables you to view something on the small screen, open the phone and see it on the larger screen, picking up right where you left off. Not only that, but Samsung's Multi Active Window will let you open three apps on the larger screen so you can multitask to your heart's desire.
You'll always be ready to capture the moment with any one of the Fold's six cameras – three on the back, one on the front and two inside. It comes in four galactic colors: Cosmo Black, Space Silver, Martian Green and Astro Blue and is available in both 4G and 5G. With 12 GB of RAM, the Fold is one of the most powerful and responsive smartphones available.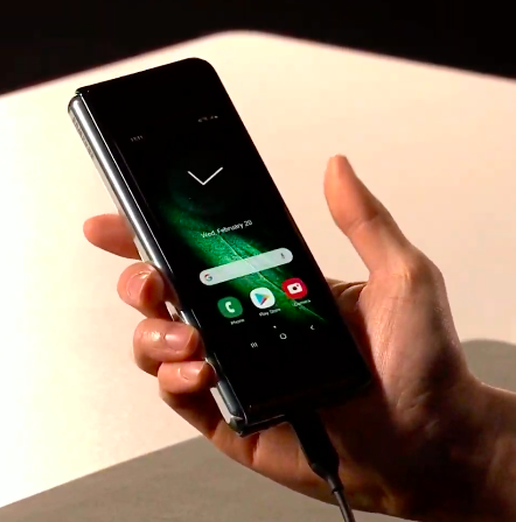 In its folded position, the phone is compact but still larger than other smartphones on the market which could make it challenging to tuck away in your pants pocket.
Roger Cheng of CNET warns that app support could be abysmal at first because of how niche the device is. Google is said to be adding support for foldable devices with its next Android update, but that won't be until later this year. For now, Google Maps and Netflix are two apps that will take advantage of the larger screen.
Of course with these big technological advances comes a hefty price tag. At $1,980, the Fold is quite the status symbol and might not be for the average consumer. But Samsung fans and gadget enthusiasts will undoubtedly jump on board the Galaxy Fold train.