Carol joined MIS Solutions in August 2016 as the marketing assistant. A native of Tuscaloosa, Ala., she is a die-hard Bama fan and especially loves Alabama football. Carol's lived in Metro Atlanta for more than 30 years, and she and her husband, Steve, have four adult-ish human children, one outstanding son-in-law and two fur kids.
Name something on your bucket list. Take a two-week vacation to Bora Bora and stay in an over-water bungalow.
What's the craziest/funniest/most outrageous thing you've ever witnessed/done? Once in the '80s a friend and I were at an Aerosmith concert. We were already in good seats close to the stage, probably about 30 feet away. This was a small arena, and our seats were those interlocking kinds that you'd find in a contemporary church. The band was just coming out of its years-long rendezvous with drugs and alcohol and was on its comeback tour, Permanent Vacation, which is probably the reason we were able to get great seats. Just as Steven, Joe and the other Bad Boys from Boston took the stage there was a very loud commotion to the left of us. For a split second, I thought a fistfight had broken out. But that was not the case. In an instant, everyone sitting in the six or so rows in front of us stood up, grabbed their chairs and ran forward at once taking the whole row with them. Because the chairs were hooked together, we had no choice but to pick up our chairs and run too, along with all the people in the rows behind us. So now, we were about 10 to 12 feet from the stage with our knees crammed into backs of the chairs in front of us. To this day, I have never seen a more spontaneously wonderful maneuver carried out by hundreds of complete strangers – all to get closer to one of the best rock bands in American history.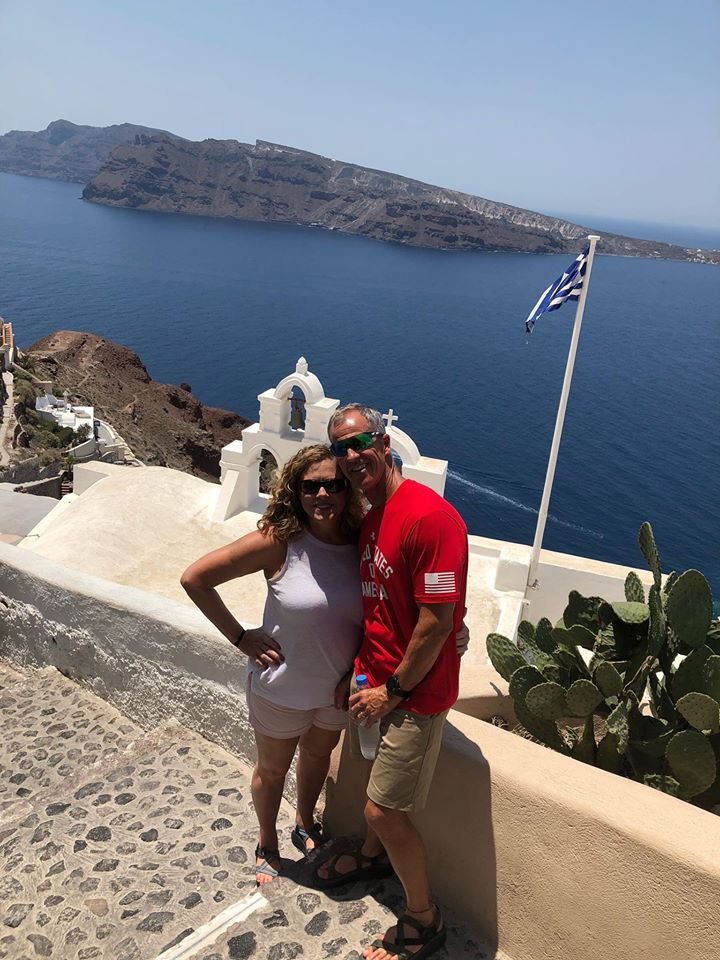 What is something most people don't know about you? For two summers during my college years, I sold books door-to-door in Texas. It was horrible and awesome all at the same time. I worked from 8 a.m. to 9 or 10 p.m. six days a week knocking on strangers' doors. It was commission only, but I was pretty good at it so I made great money. My plan was to make enough money to pay for my tuition and sorority bill and still have extra spending money without having to work during the school year. Unfortunately, I totaled my car two weeks before I was going back to school, so I had to spend the money I made on a car – and I still had to work to pay my bills.
Favorite Quote: If you can't be a good example, you'll just have to be a horrible warning. — Catherine Aird
What is something you avoid like the plague? Cruise ships or any large ship for that matter. I'm terrified of them and I don't know why.
Tell us a little bit about what you do each day. I work directly with Jennifer helping to promote MIS Solutions through social media and email marketing. My job is to tell the MIS story through newsletter articles and blog posts.
What's the most fun thing about your job and why? Taking a sometimes-confusing topic and writing about it in a way that's easy to understand. I love learning about technology – most people take it for granted. That is until something goes haywire, which does happen because computers aren't perfect. I also enjoy getting to know our clients better. Part of my job is interviewing them and writing feature articles about their companies and how technology is fueling their businesses.
What is the most challenging part of your job? My background is in journalism and public relations, so technology in itself is a bit of a mystery to me. Luckily, MIS Solutions' leadership and team members are truly experts and are patiently willing to explain complex technology concepts to me so I can write about them in layman's terms.
What do you like to do for fun outside of MIS? Visiting the Florida panhandle, vacationing with our friends, kayaking in the North Georgia mountains, playing Sudoku and hanging out with my husband, Steve.