When you're running a small business, you need to stay abreast of every possible money-saving strategy. So if you've been putting off a substantial computer systems upgrade, now is an excellent time to reconsider. The "Protecting Americans from Tax Hikes Act of 2015" has been updated for 2018 and beyond increasing the deduction limit to $1 million. The limit on equipment purchases has also been increased to $2.5 million.
In addition, the bonus depreciation is now 100% retroactive to September 27, 2017 and good through 2022.
Section 179 allows a business to write off an entire equipment purchase for the year it is purchased, rather than writing a portion off for the next few years. This is a great benefit to small and medium business owners. You can buy up to $2.5 million in machinery, computers, software, office furniture, vehicles or other tangible goods and thereby reduce your taxable income on your current year's tax return.
Sample Calculation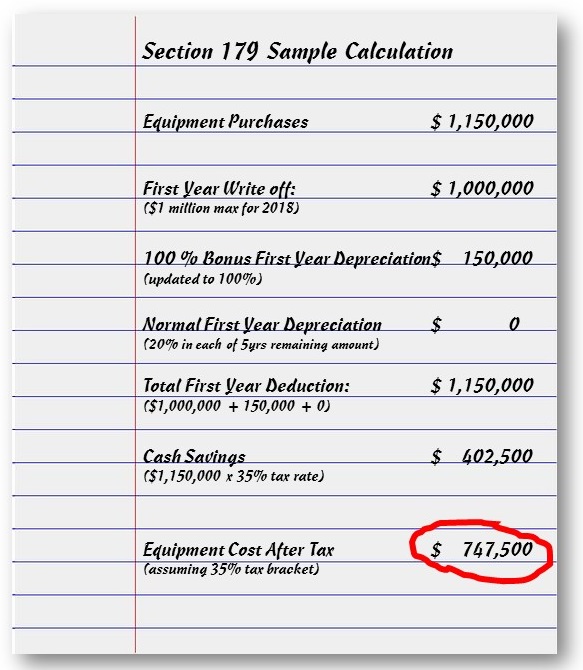 So if you are going to need a new server, upgrade, move to the cloud or perhaps need a new phone system in the near future, before the end of the year is a great time to help maximize your Section 179 deduction. After all, no one wants to hand over one penny more to the government than is absolutely necessary.  We all work way too hard for that!
The only stipulation is that the equipment purchased must be "placed into service in the same tax year that the deduction is being taken." This has the potential to save small businesses thousands of dollars. Just make sure that the equipment is both purchased and put into service by the end of this year, December 31, 2017! Learn more at Section179.org.
Contact us if you're ready for an upgrade!